Carin Wester
's fashion show was one of my favorites of the week. With nominations like '
Guldknappen
' prize (
Guldknappen is one of Sweden's most respected fashion awards
) and
Elle
Magazine's ''Newcomer of the Year'' -award, she has established herself as one of Sweden's most prominent designers. The S/S 2011 collection is inspired by the creative lives of many 70's rock artists and their influences on street fashion evolution of the end of the 20th century.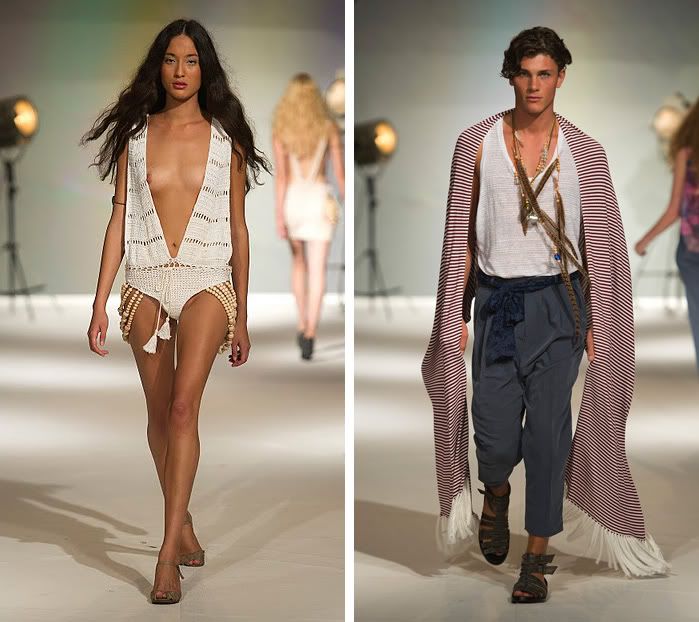 Her collection consists of three lines: 'Carin Wester' for Women, 'Wester' for men and 'W' - which is a limited collection focused on a few women's and men's styles that are cut more edgy. The qualities that has been added to this line are also more extravagant and luxury looking. From the handmade, limited collection 'W', the most amusing and charismatic designs were the women's crocheted pieces. The wooden beads decorating the crocheted outfits reminded me of the 1980's beaded car seat cushions my dad used to have :)
Loving this witch-doctor look.
Changing and twisting the borders between genders makes this collection fascinating. Boys wearing women's attributes, such as maxi-dresses and lace coats with Swarovski buttons looks just perfect, and by no means feminine. Maybe fragile and romantic, but still masculine. In contrast, women's clothing had men's silhouettes.