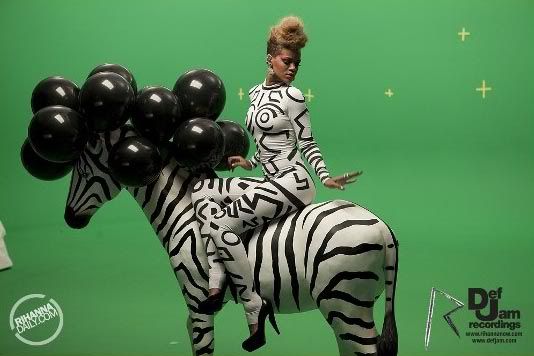 As much as I love my girl Rihanna I have to say I'm a bit disappointed with this video. She looks amazing, the video and the visuals are awesome, but a BIG but !! The style is just such a rip off of M.I.A.'s style & videos, which were HOT five years ago. I mean they still continue being hot, but the whole beauty behind M.I.A. and her musical & visual art was that they were produced with such a low budget, with so much soul and creativity. She was so original, and really stood out of the game, a real rude boy!
When it comes to music and/or fashion, it's not about reinventing the wheel, but I just feel that not enough time has passed to entirely copy this strong style that is very M.I.A.'s signature style.
ALSO, what really pisses me off is that this song just doesn't keep up with the great video (even though the more I listen to it, the more i like it...but still not enough to top the video). Some soft grinding and popping your booty up, like any other r&b artist is doing it. I wish Rihanna would go back to her island roots and bring some amazing beats and crazy dancehall moves into her music and videos... Her latest stuff is just so bloody Americanized! I want my cool island girl back!
She is a young artist and I believe she is just going 'trough a phase'. She is growing, she needs to express herself - you know all that stuff we all go trough in life at some point... I trust she'll be back with some SERIOUS rude boy stuff sooner or later.